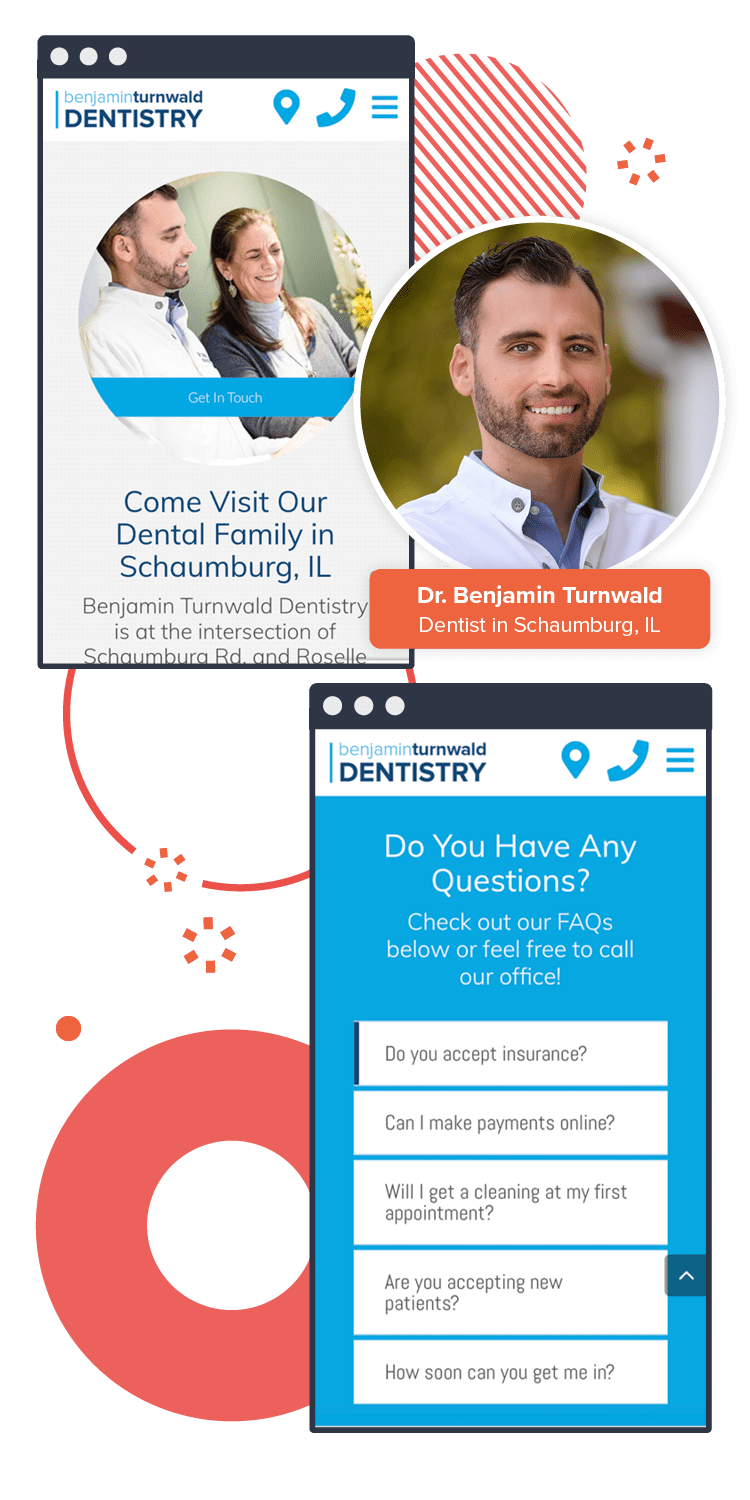 About Benjamin Turnwald Dentistry
Dr. Benjamin Turnwald is a small-town guy with a huge heart. After seeing a dentist relieve a patient in pain while job shadowing, he knew dentistry was what he wanted to do.
Fast-forward, it was time for him to make his own mark as a dentist with his own practice and philosophy in Schaumburg, IL.
Dr. Turnwald had just about everything figured out, except how he was going to portray his new practice to the community.
As a new practice, he needed a complete branding package: a new logo, a new name, and a new website.
It's no secret: Marketing can get expensive, especially for startups who start from ground zero.
That's where Roadside Dental Marketing came in.
Dr. Turnwald turned to us for his new "everything" because he knew we could get the job done… WITHIN BUDGET.
With three website packages and a la carte services to choose from, we selected a bundle that met Dr. Turnwald's needs and budget.
Another not-so-secret secret: Startups don't hit the ground running.
We understand that every penny counts, so you need to budget accordingly.
That is why we set up a monthly payment plan for Dr. Turnwald, ensuring no one lost sleep at night wondering if they have enough money or if they should have invested more.
We may be a little biased, but we think Dr. Turnwald made the right decision in choosing Roadside. ?
Bringing a fresh approach to dentistry
Our objective: Put Dr. Turnwald's patient-first actions into words... and design.
Patient-Focused Content: Dr. Turnwald chose Roadside Dental Marketing because of our commitment to writing unique content that solves patients' problems. Dr. Turnwald believes in putting patients in charge of their dental care and addressing all of their barriers: fear, time, and money.
Proving Their Sincerity: Phrases like "Professional hand holders," "We see one patient at a time," and "The all-about-you policy" are spread throughout the website. No matter where you turn, you will be subtly reminded of Dr. Turnwald's patient-first mindset. The icing on the cake: They hired a professional photographer to accurately capture their personalities and build relationships with patients before they even step in the door – not just the standardized headshot.
Seeing is Believing: Dr. Turnwald is good at what he does. But how do you demonstrate that online? A smile gallery, of course! With smiling before and after photos, viewers can see real-life examples, not just tell tales. Including testimonials helps paint a picture from the patient's point of view, instilling pathos in and creating a connection with the reader.
The before image a is temporary landing page we built for Benjamin Turnwald Dentistry so Dr. Turnwald could start promoting his new dental practice and dental brand right away!
How do you promote a new brand?
Competing with tenured practices may seem daunting. But the truth is, most practices aren't leveraging their online presence to its full potential – yet. To get Benjamin Turnwald Dentistry ahead of the game, we started from ground zero and enlisted the support of his team to keep the momentum going.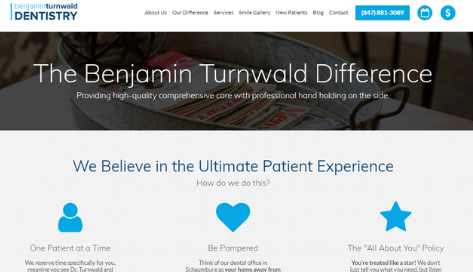 To stand out from the crowd, we needed to establish what made Dr. Turnwald different and why patients should choose him. After a quick questionnaire and one phone call, it was easy to tell what direction we were headed in: The patient experience.
With that, we built a brand that consistently communicated the hierarchy of Dr. Turnwald's practice: Patients are #1.
Dr. Turnwald purchased the following packages to build his brand:
It was time to tell the world about Benjamin Turnwald Dentistry.
Starting with online directories, we verified Dr. Turnwald's correct information and added him to critical online directories such as Google Places, Yelp, and Yellowpages.
His social media accounts were unified with a consistent brand and message, helping patients build brand recognition and increasing SEO rankings. You may recognize these platforms:
Now the hard part, getting people to see your brand. This was – and still is – a team effort.
We supply Dr. Turnwald with printed materials to promote the traditional way and weekly social media posts to keep his online presence growing.
We also continually provide guidance on advertising, writing blogs, email blasts, and all-things marketing to Dr. Turnwald and his team.
Since their launch, they have achieved killer results – so much so that they had to pause advertising because their schedule was full with new patients.
The results speak for themselves!
The community is loving Benjamin Turnwald Dentistry! See the results just within three months after launching his responsive dental website!
Increase of Mobile Traffic
Increase of Unique Visitors
Increase of Total Traffic
View other dental marketing examples
Are you a candidate to 3x your ROI? Fill out the form to find out.