About Park Pediatric Dentistry
Dr. Lesa Allison is a pediatric dentist in Greenwood, IN. She's about to endeavor the most exciting moments of her life… opening her FIRST dental practice! How exciting! She had the vision, the perfect office, hiring her dream team, but what about her online presence?
#EnterRoadside!
Dr. Allison already had enough on her plate perfecting and completing the nitty-gritty, final details to open her brand new business. How could she possibly worry about online marketing? With our Startup Dental Package, we provided all the tools and foundation Dr. Allison needed to start growing her online brand. This included:
Creating a strong website foundation
You can't grow your online presence without a dental website. With Park Pediatric Dentistry, Dr. Allison wanted a bright, cheery, and modern website to immediately demonstrate she's a fun, board-certified pediatric dentist who's committed to children's oral health.
Keep scrolling to see what we created!
Pediatric website objective:
Create a strong website foundation for Park Pediatric Dentistry
A Bright and Cheery Brand: Take a look at Dr. Allison's logo. You can immediately see her brand's "cheeriness" in the pastel colors. Our creative team incorporated this personality into the design, adding colorful gradients, bright buttons, and multiple colorful bands to make the website pop. On top of the design, we created light-hearted content focusing on the fun nature of the office.
Easy to Use and Educational: While the content is fun, Dr. Allison also wanted her website to be an educational resource for any parent in need of dental tips for their kiddos. We accomplished this with informative FAQs on her New Patients page and having her office contact information readily available whenever the parent needs to contact the office.
Website Accessibility: Since Dr. Allison specializes in treating children with special needs and accepts Medicaid, it was important her website is readily available to EVERYONE. While ADA Compliance Standards are not concrete, we added some features on Dr. Allison's site to help make her website accessible to anyone with special needs or disabilities. We did this by creating and optimizing a Website Accessibility landing page and adding a translation feature featuring the top 15 languages used in her area.
View the before + after:
The before image is a temporary landing page we built for Park Pediatric Dentistry, so Dr. Allison could start promoting her new dental practice before its official opening date!
Building a strong online presence
Ok, Park Pediatric Dentistry has the new website…now what? It's IMPORTANT to start creating a strong foundation in online marketing to survive and thrive online. With our Startup Package, we took care of the online basics for Dr. Allison.
Building and optimizing a clean, professional, and unified presence with your social media accounts is essential to impress patients and help your SEO. We helped take care of the basics for Dr. Allison by setting up social media accounts and creating customized social cover graphics, including:
Facebook
Twitter
YouTube
Google+
Link building starts with your primary data providers, making it essential to have online directories (AKA the online phonebook) set up professionally and consistently. With Dr. Allison, we set up and optimized her business listing on critical online directories, including:
Google Places
Yelp
Yellowpages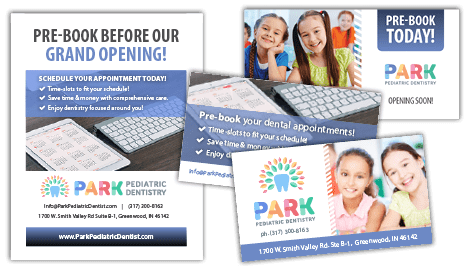 Being found on Google is a popularity contest. It's crucial to use online marketing every day to start building online relationships with your community. To help Park Pediatric Dentistry, we provided her a weekly toolkit and coach email to provide tips and tricks to build her brand online.
Simple how-to articles
Easy-to-use blogging instructions
How to ask patients for a review
Fun graphics to post on social media
What did Dr. Allison say?
"I give Roadside Multimedia Marketing an A+! I am still amazed by how they accurately communicated my brand identity and practice culture without meeting me in person. Their customer service and ongoing marketing coaching are what puts this company on top. They provide ongoing marketing advice and tools to keep the practice website and social media accounts relative. I would highly recommend to friends and colleagues!"
Dr. Lesa Allison, Pediatric Dentist
Park Pediatric Dentistry | parkpediatricdentist.com
View other case studies from Roadside
Are you a candidate to 3x your ROI? Fill out the form to find out.