The BEST Resources for Dental Office Management Teams
We are thrilled to announce we've partnered up with the American Association of Dental Office Management! AADOM is an outstanding association that empowers dental practice management teams to grow personally and professionally through networking, support, continuing education, and other resources.
We work directly with dozens of office managers and practice administrators that face unique challenges associated with running a profitable dental practice. AADOM membership offers the BEST resources for dental office management leaders everywhere!
5 powerful benefits of AADOM membership
One resource you're sure to love is their exclusive members-only forum where you can get feedback in minutes from peers who have successfully overcome the same challenges you face every day. Imagine what you can accomplish with this support!
Other benefits of AADOM membership include:
Access to the most powerful network of dental management professionals with more than 17,000 participants
Local approved AADOM Chapters – extensions of the national association providing resources and education at the local level
Educational webinars, online education, and access to their virtual study club
Resources for career development, including the Fellowship of Dental Practice Management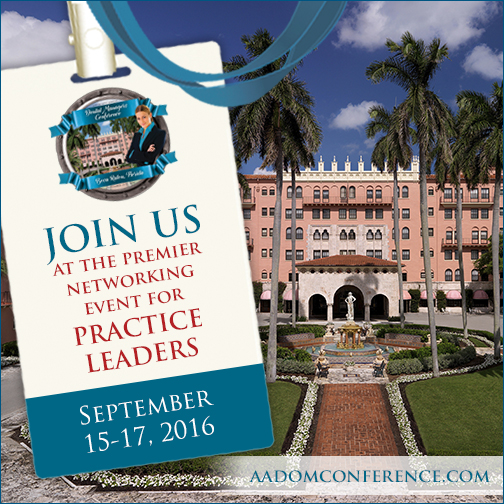 AADOM's Dental Management Conference: You can't afford to miss this event!
We are pleased to announce we'll be in beautiful Boca Raton at AADOM's Dental Management Conference, September 15-17, 2016! The conference offers premier education and practical resources for dental office management teams and dentists who manage their own practices.
While there are conferences and organizations out there for dentists, hygienists, and dental assistants, this is the ONLY conference specifically designed for dental office managers, practice administrators, and the entire business team!
One of the reasons we LOVE this conference is that we believe 100% in education and community. Enjoy three full days of learning about topics relevant to YOUR job and take away practical tips and solutions that you can use right away to improve your team, operations, and practice as a whole.
There's a killer lineup of courses on every aspect of your job, including a hands-on workshop that will be taught by Roadside's own Shannon Mackey and Angela Byrnes: Holistic Dental Marketing: Conquer the Chaos and Become a Marketing Hotshot. Check out all of the courses here and start planning your trip!
PERK: We'll pay $100 of your registration fee!
We are SO confident our clients will benefit from this conference that we'll pay $100 of your registration fee! Register now and enter 16ROADSIDE at checkout. Shannon, Angela, and the rest of our team can't WAIT to see you in sunny Boca Raton!