Now that you've sent all your assets we can start piecing together the vision for your new website.
On the Design Kick-Off call, we will discuss the assets you've sent, run through our ideas, and get your feedback. This call allows us to get to know you personally and solidify your unique strategy. 
The call is divided into two sections: design + content.
Watch our video for more information.
Before we start, let us introduce your web team:
"My superpower is to bring your vision and voice to life."
– Arron, Content Marketing Strategist

"My job is to make you look like a ROCKSTAR online."
– Dominique, Lead Designer
Website design
We want your personality to shine! On the design portion of your call, we will get to know you and narrow in on your vision. We will discuss your:
BRANDING GOALS
How do you want to be portrayed online? Homestyle charm, spa-like relaxation, or professional and reliable? Your colors, fonts, and layout all factor in. We'll help you choose the ideal branding for your practice.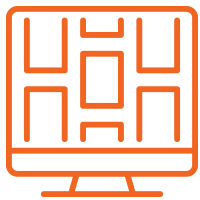 WEBSITE EXAMPLES
Providing examples of web design you like is the BEST way to get your vision across to our designer. You can provide examples from anywhere on the web, Pinterest, or check out our portfolio.
PACKAGE REVIEW
Roadside offers three unique web packages. We will review the package you have chosen and set clear expectations for the project.
One of the most popular styles, modern websites are known for balancing bright and bold colors with whitespace and large photos. This clean design works best for boutique practices or big city offices.
View Example: iGrin Children's Dentistry
Contemporary design combines a modern approach with an artistic twist. It uses abstract shapes and non-traditional layouts. It's excellent for dentists who are targeting a younger audience or promoting an innovative approach.
View Example: Night & Day Dental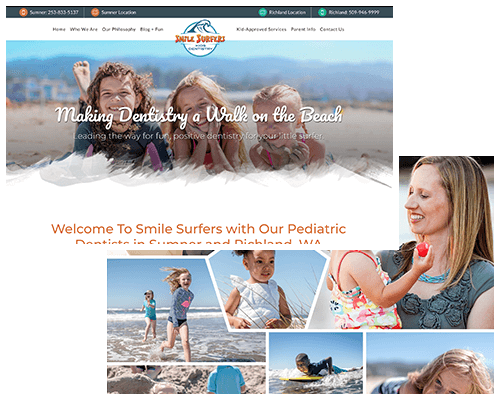 Fun sites are bright, playful, and say "wow." The design grabs your attention with a lot of colors and movement. It's great for pediatric dentists or doctors who want to showcase a more light-hearted vibe.
View Example: Smile Surfers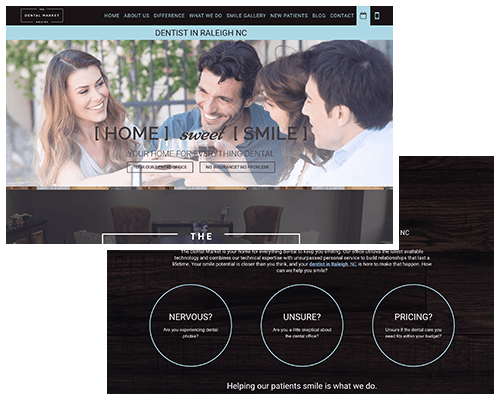 Portraying warmth and a small-town feel, these sites use natural colors and homey textures (wood, trees, etc.). The design of your warm website is always inviting and calming.
View Example: The Dental Market
Classic websites are perfect for doctors who have an older clientele or prefer to show their high-class approach. This style uses serif fonts, heavier textures, and simple layouts for a more professional feel.
View Example: Chatham Orthodontics
Elegant websites are a combination of modern and classic. This design tends to use a soft color palette and more classic layouts but with a few modern touches.
View Example: LeCuyer & Amato
Website content
High-quality, easy-to-digest content is the best way to get your message across. When discussing your unique content strategy, we will:
OUTLINE YOUR GOALS
What do you want to stand out on your website? Which services would you like to highlight? These questions will help us develop a solid content, marketing, and SEO strategy for your new site.
HIGHLIGHT YOUR UVP
Your unique value proposition, in essence, is what makes your practice so great. We'll ask you what makes you truly unique and why? Your answers help us to strategize how to tell your story online.
IDENTIFY YOUR VOICE
What is your brand's message? Are you more upbeat, conversational, or professional? We will adapt our writing style to meet your unique voice. See some examples below.
Fun content focuses on the light-hearted nature of your practice. If we can make a potential patient chuckle on your website, we've done our job. This type of content is upbeat, clever and wants you to keep reading more and say, "I want to meet this dentist!"
View Example: Skyblue Orthodontics
You're the best of the best. You've done your training and are ready to help anyone with complex dental issues. A professional, credible voice proves your expertise. We can focus on the facts, your expertise, training, and phenomenal results.
View Example: NorthStar Dentistry for Adults
Warm content focuses on the compassionate nature of your team who are champs at combating every dental barrier imaginable. You strive to start lifelong relationships with every person who comes through your door.
View Example: Benjamin Turnwald Dentistry
Let's wrap it up!
We just need to confirm a few small details and we're off to building your website!
YOUR SITEMAP
We'll review and confirm your sitemap to make sure you have all the pages you need.
YOUR FINAL HOMEWORK LIST
During the call, you and our team may come up with some additional assets to make your website even more amazing!
YOUR START DATE
Once we go over your expectations, project scope, and answer any final questions, we'll schedule a date to start building your beautiful responsive website.
Right after the call, Arron will send you a Design Kick-Off Call Summary.
Please read this as it will include our contact info, keynotes from the call, and an outline of your final website strategy.
Fill out the form for a free website quote!