Florence Special: Ricotta and Spinach Ravioli Recipe
Last month, I was surprised with an anniversary weekend away in Florence, Italy. If you have never been, I cannot recommend it enough; it is such an authentic, beautiful, and enchanting city.
There are so many things to enjoy and little adventures to have, such as climbing the Duomo, wine tasting in the Chianti vineyards, or visiting the statue of David in the Galleria dell'Accademia. However, one of my favorite things I did was a cooking class with Salvia e Ramerino where I learned to cook Savory Bigne with Artichoke and Pecorino, Pollo alla Cacciatora, and Ricotta and Spinach Ravioli.
Ricotta and Spinach Ravioli Recipe
For this Recipe of the Month, I want to share with you one of the recipes I was taught… a delicious Ricotta and Spinach Ravioli recipe.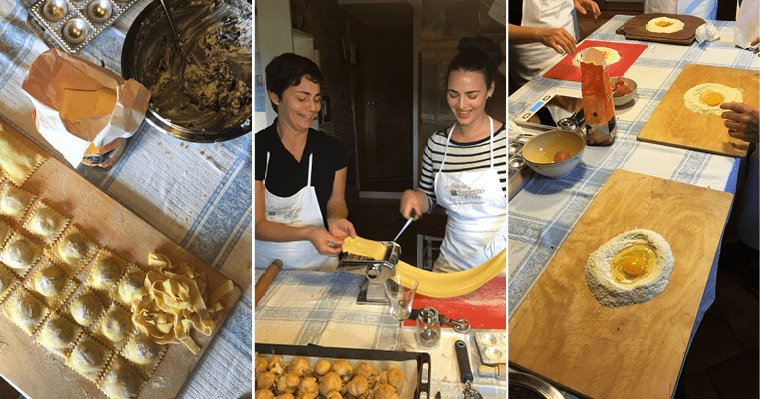 Ingredients
Fresh Egg Pasta
200g semolina or white flour
2 eggs
1 tbsp olive oil
pinch of salt
Ricotta and Spinach Filling
60g spinach
60g ricotta
pinch of salt and pepper
grated nutmeg
Method
To make the filling: Steam the spinach. Let it cool and mix with the ricotta, nutmeg, salt, and pepper. Put aside.
To make the pasta: Put the flour on a flat surface and make a large hole in the center. Add the eggs, olive oil and salt. Knead the dough until it is soft and elastic. (Add some flour if it is too wet and sticky or add some warm water if it is too dry.)
Put the dough through a pasta machine, each time getting a thinner sheet of pasta. On each sheet, add flour to the underside to avoid the pasta sticking to the surface. Repeat until all the dough has been used.
Take one of the sheets and put the filling in little balls in the middle of the sheet. Take another pasta sheet and place on top of the first one. Press around the topping, eliminating any air bubbles.
Cut the pasta into squares with the filling in the middle of each square. Spread the ravioli on a large dish with flour underneath.
Cook the pasta for a couple of minutes in salted boiling water. They will come to the surface when ready.
Serve with a butter and sage sauce.