Preparing for Reopening: Guest Blog from Dental Coach Anna Wisnoski
A note from Whitney, Roadside's Marketing Director:
Last week, Angela and I conducted an informal survey among attendees of our AADOMOpens a new window to the AADOM website webcast. We asked participants: Who has already reopened? Who has a scheduled date and is in the midst of preparing for reopening? And who doesn't have a reopening date yet?
Interestingly, the results were split almost evenly into thirds – about 30% for each scenario. As the country begins to reopen and dental practices get ready to return to seeing patients, it's more important than ever to plan ahead.
In that spirit, we are pleased to share some insights from Next Level Dental ConceptsOpens a new window to the Next Level Dental Concepts website' Coach Anna Wisnoski on preparing for reopening. Enjoy this guest blog and don't hesitate to reach out to Anna if you have any questions.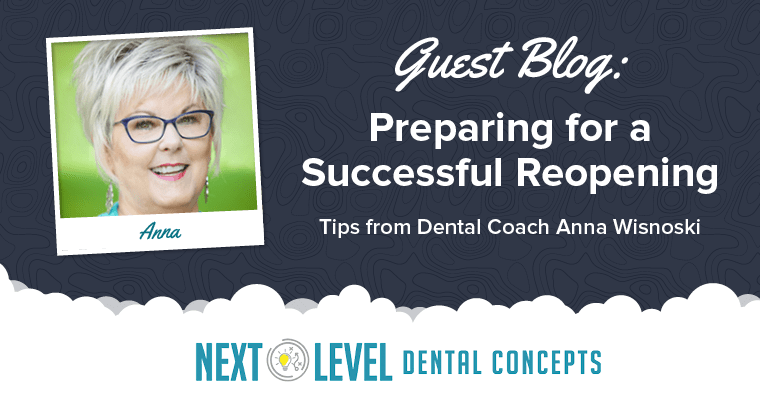 What are some of the steps practices need to take as they prepare to reopen?
C – Communication.
Utilize your third party vendors (WeaveOpens a new window to the Weave website, SolutionreachOpens a new window to the Solutionreach website, etc.) to send emails, text messages, etc. regarding your reopening. These communications should explain what to expect that is different. 
For pre-screening, I recommend a phone call vs. text or email, if possible. 
O – Online forms.
It is essential that existing patients update their medical history and that new patients complete their forms online before they arrive for their appointment.
V – Verify insurance.
Employment may not be active, insurance may not be active. Verifying active coverage is really important at this point in time.
I – Initiate pleasant conversation with the patient in the chair.
Let's face it, everyone has social distanced enough! 
We are starved for real conversation and empathy. I think it is important in the patient relationship to offer care, concern, and light-hearted conversation once the patient is in the practice.
D – Don't assume.
Don't assume patients are not interested in treatment or able to pay for treatment. Treatment presentation is a key ingredient in the financial recovery of the practice.
How should practices adjust their scheduling?
Effective, intentional scheduling is critical to success, more than ever. 
Be careful to schedule assistant and doctor time effectively. Maximize the doctor's chair time with quad dentistry as much as possible. 
Allow more time for each appointment because of additional time needed for patients to wash their hands (before and after treatment) and time to properly disinfect the rooms between patients.
What are your top 3 recommendations for doctors and teams in preparing for reopening?
1. Don't open until you are fully prepared for the "new normal." This may be the future of dentistry. Embrace it!
2. Plan a comprehensive team meeting a few days before you open to review new systems, protocols, and procedures. Allow the team to ask questions and speak up regarding any concerns or fears they may have.
3. Communicate openly and often with your patients that their safety and the safety of your team is your primary concern. 
We have always been a safe environment for our patients, even before COVID-19. Now even more so! Communicate how we are following all the necessary precautions to provide them with safe and quality dentistry.
---
Anna Wisnoski, Next Level Dental ConceptsOpens a new window to the Next Level Dental Concepts website
Anna has spent years as a practice administrator and now enjoys the challenge of helping practices achieve their goals.
As part of AADOMOpens a new window to the AADOM website, she's developed close partnerships with fellow professionals and can bring real benefits to your practice.
"I chose dentistry because, as a child, I was terrified of the dentist but wanted to give something back to people. When I overcame that fear, I realized how I felt could help me have more compassion for our patients. I've loved science and medical research for most of my life. Blending the two through dentistry was a perfect fit for me.
"Now I enjoy guiding dentists and their teams to be successful in the patient experience. It is very rewarding to me. It's my way of helping many more patients than I could if I were limited to one dental practice."
Get in touch with Anna by visiting her websiteOpens a new window to the Next Level Dental Concepts website or emailing her at anna@nextleveldentalconcepts.com.