Instagram & Dentists: A Match Made in Heaven?
Have you been having trouble attracting new clients, especially of the young variety?
That's 'cause you've been avoiding Instagram!
The most image-driven social media space out there, Instagram works wonders for dentists.
And because it is also the biggest social media platform among young people (35 years old is the cut-off point, sorry 😜), it is fantastic for boosting engagement with patients.
You can have private chats with potential (and current) patients, share dental tips and patient success stories, collaborate with other experts, and more.
The data-laden sky is the limit, provided you know what you're doing. So, let's see how you can make Instagram work for you.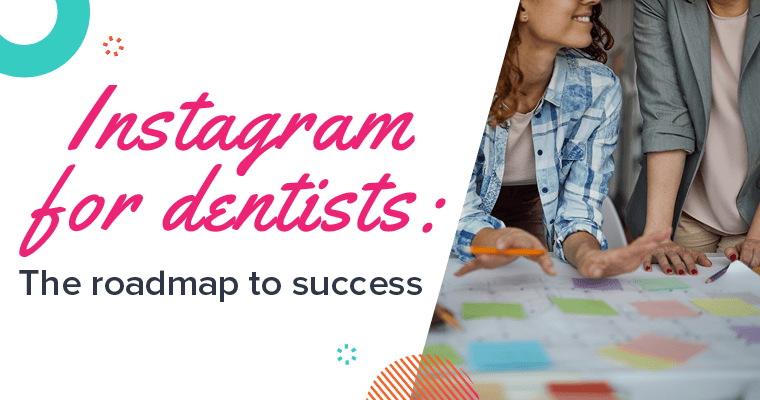 Besides the underlying 'boosting engagement' goal, there are numerous reasons why every dentist should be on Instagram and the benefits that come with it. These include (but aren't limited to):
It humanizes you
Dental clinics are no amusement parks.
People visit them because they have to, not because they want to. Still, building a rapport with patients goes a long way.
You want them to trust you, but you can't trust someone you don't know, can you?
That's where Instagram comes into play.
Share a silly story. Post a few personal anecdotes. And, when all else fails, an occasional pet pic always hits the spot.
When patients know you or, at the very least, believe they know you, they'll feel a lot less anxious about scheduling an appointment.
It helps you spread the word
How many times have you heard people say they don't need to visit a dentist because they have the whitest teeth? How many clients have you lost to the 'whitening damages teeth' myth? How often do you have to explain to people that gum disease is not 'just a mouth problem' and, in fact, can lead to diabetes, hypertension, and many more serious health issues?
Instagram is second to none when it comes to educating the public.
The more people follow you, the more people you'll be able to enlighten. And, with Instagram's picture-forward format, you're much less likely to lose the patients' attention along the way than you are with audio and text-based formats.
It offers networking opportunities
Sure, you have numerous dental conferences. You also have the colleagues you've known since dental school. You know people. And the more time you've spent in the game, the more connections you've built (at least that's how it usually goes).
But do you know thousands? Scratch that, do you know tens of thousands? Not a chance. That is, not without an active social media presence.
With platforms like Instagram, on the other hand, you can easily network with a few thousand people. The Instagram medical community already has a sizable presence, and it's not planning on shrinking anytime soon.
To expand on the previous, "spread the word" part, Instagram already has countless dentists posting educational and promotional content. And, because you'll usually find them located in different cities, it's not a contest.
It is, in fact, an opportunity to teach, learn, and grow together. As dental professionals. As businessmen. And, maybe, just maybe, as content creators.
Of course, it's easy to say you should create Instagram content. But it's not quite as easy to, well, create it.
Like all things in life, it takes time to learn the Instagram ropes and 10X as much time to perfect it (or come reasonably close). There's an art to it, and you can't master this art overnight.
Because that's the case, most dentists choose to outsource this task to professionals. But, as smart as it is, it's always a good idea to figure out Instagram basics so you could add an occasional personal touch.
With that in mind, let's see what you can (and should) do to find success on Instagram.
Switch to a business account
Instagram business profiles provide a dozen of additional features that can help you grow your business. They're free too, so no reason to avoid them. These features allow you to:
Access Instagram Insights with analytical data, sharing who has visited your profile, clicked on anything in your profile (email, phone number, website, etc), as well as how many have seen your posts.
Add contact information to the profile, and not just a link.
Put a category on your business to distinguish it from the sea of countless other businesses on Instagram.
Schedule posts via third-party platforms.
Take advantage of the Quick Reply tool, which automatically responds to common questions from patients without you having to type the same message time and time again.
Utilize different advertising options.
And more.
Choose the right username
Your Instagram username is what your @ handle will be.
It's the first thing people will see before they interact with your Instagram page. So, we would recommend choosing a keyword for your username.
Let's say you're a dentist in Seattle. Something along the @seattledentist line will make your profile appear high in search results when people search for dentists in Seattle.
On the other hand:
Choosing your dental practice's name for your username will keep your brand cohesive. And, as long as your SEO game is on point, it'll work better in the long run than the keyword approach.
Of course, Instagram limits usernames to 30 characters, so you might have to abbreviate the name, but 30 is usually plenty anyway.
Add contact information
You'd think that goes without saying, just like choosing a fitting profile image and dental office's name. But there's a caveat here. Ideally, you want to include the practice's:
Website
Physical address
Email address
And phone number(s)
But the issue here is that Instagram only lets you feature one website URL in the profile. There's a workaround though.
Using Linktree… Opens in a new window to Linktree website… – a free customizable landing page – you can showcase multiple links within one.
Just promise you won't go crazy with links, alright? In fact, limit them to seven links max.
More than that and readers will feel overwhelmed. You can start with:
Online booking page
Main services page
About me page
Special offers
Homepage
And go from there, switching these links out and reorganizing them to reflect current promotions or targeted services.
Fine-tune your bio section
Instagram's bio area is basically your Instagram business card. So, make sure it's clean, crisp, and coherent.
This is the section where you'll want to describe your practice, ideally including a keyword or two.
However:
Instagram limits bios to 150 characters max.
In other words, keep it short and sweet. Use this template as a starting point:
[type of dentistry or adjective] dentist in [your city, state]
[emoji] [dentist's name]
[emoji] [something that sets your office apart]
[emoji] [something that sets your office apart]
[call to action]
And, there you go, your Instagram business card is complete.
Post the right content
What constitutes "the right content" is a whole separate article, at least as long as this one. So, we'll spare you this time around and keep this part short and sweet (just like the bio section that you should have already filled out, so chop-chop 😉).
In the beginning, you should stick to these five types of posts:
Engagement: Posts that prompt your audience to comment, like, and share your content.
Authority: Posts where you share your undeniable knowledge and expertise with your audience.
Promotion: Posts that bring attention to new special offers, services, technologies you use, etc.
Trust Builders: Posts that help you build a close relationship with your audience and earn their trust (testimonials, case studies, etc.)
Behind the scenes: Posts that show off your team's personality and keep your feed balanced with occasional goofy content to lighten the mood.
Is Instagram worth it?
The benefits of Instagram for dentists are seriously undeniable and undeniably serious. And the quicker you hop on this train, the better seat you'll have on this ride to success.
We get it though:
Instagram is its own beast, and you have a business to run.
No chance you also have the time to navigate the Instagram space.
That's where we come in. With our 15-day social media coaching program and Weekly Coach service, your Instagram journey will be nothing but smooth sailing to the top.