Getting Braces as an Adult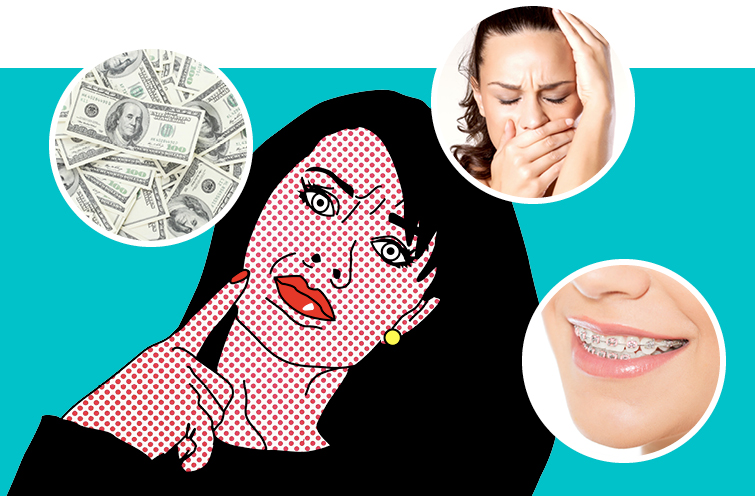 I've wanted straight teeth since … FOREVER.
… but while longing for that supermodel smile, I also worried about what braces would really mean for me, and that kept me paralyzed FOR YEARS.
Namely, I worried about cost, pain, and appearance. I didn't know how much ortho really cost, and I had heard stories about pain after adjustments. As I grew older, I also worried about what others would think of me: an adult with "brace face" like some pimply 13 year old. Had I missed my chance? Was I simply too old?
To be completely honest, my old smile wasn't atrocious … in fact, when I told people I wanted braces, they often asked "why?" – they didn't know that I held my lower jaw forward to help conceal the overjet caused by my upper teeth – and this was especially well-hidden in photographs. Alongside this major bite concern, there were also of couple straggler teeth that started to push behind the others due to crowding – and I knew they were only going to become more pronounced as time went on (not a good look).
After years of working at Roadside Dental Marketing, and seeing hundreds of amazing transformation photos – and reading SO MANY testimonials about how people were thrilled with their results – I knew it was time.
My journey is probably fairly common – I Googled around for local orthodontists, read their reviews, and looked at their smile portfolios. I finally met with a few orthodontists and found one that I felt comfortable with. I was looking for a friendly team and a clean, modern office as well.
When I went to get my braces on, I was super excited (and scared) – but really, more excited than anything. (They even have a welcome board that announces who is getting new braces, and who is getting them off! SOOOO CUTE!!!)
SO, how did I overcome my three major barriers, and decide to just go for it?
COST:
For me, the money wasn't really a matter of if but "when." Without taking care of my poor bite, I believed that I would have to deal with TMJ issues down the road, and with the way my teeth were starting to crowd, I knew they were only going to get worse.
Once I finally settled into the fact that this money was going to be spent on teeth (and not shoes), it made it easier – and I was happily surprised by the low-cost payment plan that my orthodontist was able to set up for me!
Like most things, instead of just assuming, it is totally worth asking about.
PAIN:
When it comes to being uncomfortable, I knew I just had to buck up – and honestly, it wasn't as bad as I was expecting.
Yes, the first few days were awkward and sore, but I took OTC pain killers, and it was totally doable. Once I started seeing actual movement, I began to look forward to adjustments – one step closer, baby!
APPEARANCE:
This is where things got crazy: I learned that other people don't particularly care whether you have braces or not. In fact, most people didn't comment, or really seem to notice. If they did, it was usually a casual "when did you get braces?"
I think a lot of my self-consciousness is in my head – I still put my hand over my mouth when I laugh, and I only smile with my mouth closed in pictures – but that being said, I am super stoked on the progress so far, and I can't believe how fast things have come into line.
I'm really looking forward to getting these braces off and can't wait to smile with complete confidence like all the happy patient testimonials I've read over the years!
If you're considering orthodontic work, I say GO FOR IT!!!
If you have any questions for me, please feel free to comment below!