Do You Need Dental Marketing?
It's a good question, right?
Many small businesses, including dentists, struggle to determine if marketing is necessary and worth the investment. It's an especially valid question during uncertain economic times. 
But to learn if marketing is really worthwhile for YOUR dental practice, let's look at an illustration.
Let's imagine these two doctors have similar education, credentials, and experience. They both have amazing teams and beautiful offices. But as a patient shopping online for a dentist, you don't know that. All you know is what you see online.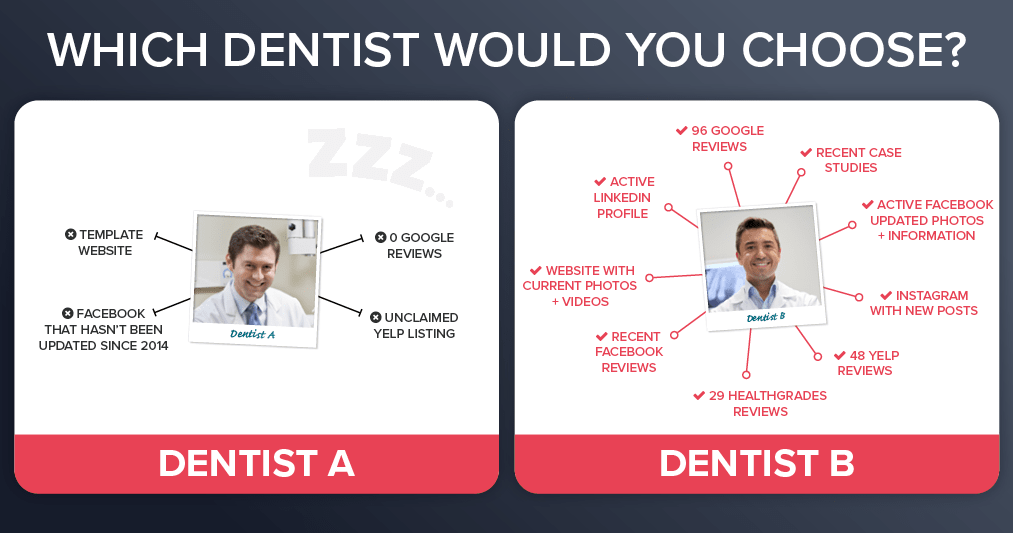 So, based solely on what you see here… which of these two doctors would you choose?
The answer is clearly Doctor B (right?!)
Marketing during these uncertain economic times might seem unrealistic or even impossible. But the practices who continue with the right marketing efforts are the ones that will have the edge over their competition.
Often, dentists have relied on referrals in the past. But as you can see from the two doctors pictured above, dentistry is a business, and your business depends on your reputation – offline and online.
Instead of passively waiting for referrals and for patients to magically find you, purposeful, intentional dental marketing and branding gives you the competitive edge.
"So, which dental marketing services do I really need for my dental practice?"
Let's start with these 4 main areas of digital marketing for dental providers:
Organic and local SEO
SEO requires continuous effort to keep your search rankings up – it's not "set it and forget it".
A properly optimized website gives you a great foundation, but if you're not consistently maintaining your SEO, rankings may plateau and then drop within a short period of time.
Ongoing search engine optimization is critical to rank on search engines and in local search results. SEO for dentists is regularly evolving and involves a variety of efforts, including publishing content, acquiring links, gaining reviews, being social, and more.
SEO is an investment for growth; the more time and effort invested, the more targeted growth you'll experience.
Reviews and reputation
Word-of-mouth referrals have always been the strongest marketing tool for dental practices, and online reviews are now the new "word-of-mouth" referrals!
Check out a few of these eye-opening reviews stats from BrightLocal:
Going from a 3-star rating to a 5-star rating gets a business 25% more clicks from Google Local Pack
Having a 5-star rating earns a business 39% more clicks from Google Local than having a 1-star rating
56% of consumers select a business if it has positive ratings/reviews displayed in Google Local Pack
Star ratings displayed in Local Pack results generate higher CTR than organic search results
A positive reputation can boost search ranking, drive more clicks and build trust among consumers
Steadily increasing your reviews enables you to dominate online search and build an online reputation that helps your business grow, especially in uncertain times. And asking for reviews is a relatively low-cost endeavor.
TIP: Add a review request link to post-op text messages and/or emails.
Earning links
Online marketing is a popularity contest, and inbound links tell search engines you're popular enough to rank.
A quality inbound link is when a credible website with a high domain authority links back to your website. When another website links back to your site, Google sees it as an online recommendation, also known as a backlink or link signal.
This is one of the top four MAJOR ranking factors for Google because it determines the popularity and relevance of your website. In fact, Google considers linking a 13-17% ranking factor!
TIP: Regularly writing blogs on topics your audience will find relevant and useful is one way to earn links – the more quality blog posts you produce, the more opportunities you'll have to be linked to.
Content marketing
Educational, trust-building content enables potential patients to overcome any of their barriers (fear of the dentist, concerns about cost, lack of time).
Do you want more treatment acceptance for specific services?
Content marketing helps the RIGHT patients find and choose you. (Hint: Those patients are researching those treatments online… be the dentist that answers their questions and provides solid proof!)
A steady stream of regular, relevant content proves you're relevant and trustworthy to both patients AND Google.
TIP: Now is a great time to adapt your website's content to make sure it's addressing patients' changing financial needs.
How to choose the right partner for your dental marketing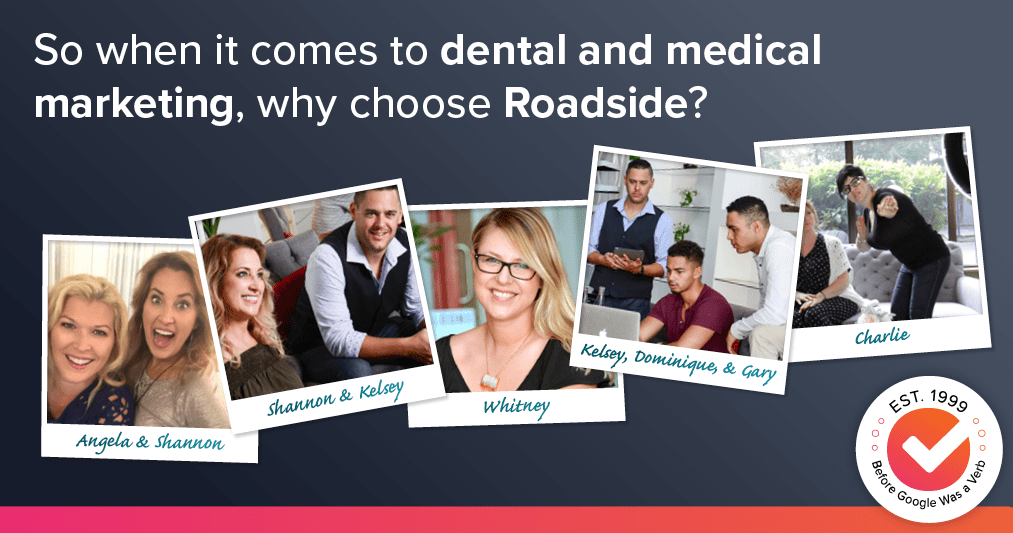 Spoiler alert: We're going to say Roadside's your best choice for dental marketing. Allow me to elaborate:
We've been in your shoes.
Many of our team members come from dental, so we KNOW the challenges you face in marketing your practice. We have created surveys, roadmaps, interview processes, and tools to make it easy for you to grow your online presence.
We're obsessed with results.
Our team is all about GROWTH and ROI. It's not just about stats and analytics (although those are important too); we want to help you reach your goals and see continuous growth from your marketing investment.
We never stop learning.
Just like you invest time, energy, and money into continuing education to benefit your patients, we invest in ongoing education to benefit our clients. Online marketing is continuously evolving and changing (Google alone makes 500-700 changes each year!), and we stay on top of the trends for you.
We don't force you into pre-set packages that don't quite fit your needs.
Our marketing plans are buildable so you can choose your services based on YOUR unique goals. We're here to help you seamlessly manage your marketing so your dental practice can thrive online – and you can focus on dentistry!
The bottom line: Yes, your dental practice needs marketing. But no two practices are exactly alike, so your marketing should be customized to your specific needs, goals, and budget. And that's where we can help! Schedule a time on Angela's calendar to discuss your marketing questions today.
Interested in learning more about the nuts and bolts of dental marketing? Check out these short videos: