Insta-smile: How Dentists Can Benefit From Instagram In 2019 [Guest Post]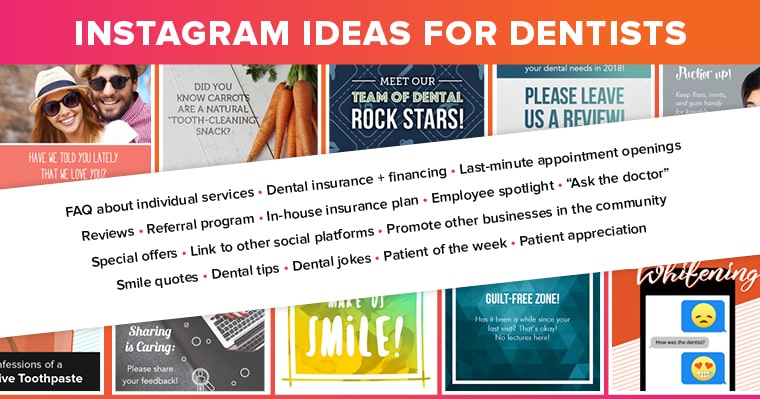 Big thanks to guest author Alexandra Kayleigh from MicroStartups for this post!
---
Instagram is a popular, flexible social platform that is great for businesses from any industry to connect with their customers — and that includes dentists too. It's visual, versatile, and very easy to get started with. Keep reading for some great tips on how your dental practice can benefit from Instagram in 2019.
Recommended reading: The Best Times for Dental Practices to Post on Social Media
Go local to get your practice seen
Instagram is just like any other business page you might have. It's where potential patients can discover your dental practice and find the necessary contact details to reach you.
Consequently, you should include as much information as possible about your practice on your profile. As well as basic details like your name, phone number, and address, include a link to your dental website and a short list of your qualifications and year of experience.
Beyond this, your content should be easily discoverable locally. Instagram's geotag feature lets you tag your photos, videos, and stories with your physical location. In turn, this lets local users find your practice, helping you find new patients.
Find out how to get started with Instagram geotags here.
Use hashtags to join the Instagram conversation
Hashtags are what ties everything on Instagram together. They let people find and join conversations and help them find the profiles, topics, and type of content that interests them.
And even dentists can get in on the act. There are several dentistry-themed hashtags that you can use to get your content seen by patients. As well as the usual generic hashtags (e.g. #dentists or #teeth), there are more specific ones that you can use too:
#clearbraces
#loveteeth
#cosmeticdentistry
#dentalhygienist
#interdental
The hashtags you use will vary depending on your content, but these are all useful additions that will get your content seen by the right people.
You should also use location-based hashtags such as #DallasDentist or #NewYorkDentist. Combined with generic local hashtags such as #SanFrancisco, this helps local patients find your practice with ease.
Explain what you do to quell patient fears
As you well know, plenty of patients find going to the dentist a daunting experience. Letting someone near their teeth is a scary thought, putting many off going altogether.
But a visual social platform like Instagram is the perfect way to make the experience less scary by explaining what you do. By describing in layman's terms exactly what a patient can expect from their dentist, you dispel any myths and make the unknown known.
Create a short video clip that explains various procedures, and why it's important that your patients get them done. Deliver it in a friendly, calm manner, and reassure patients that there is nothing to worry about.
You're probably familiar with the many myths and concerns that your patients have. Use your Instagram presence to quell those fears, and you'll provide your patients with a source of value and reassurance that works wonders.
Share useful tips and advice
As a dentist, you regularly dish out tips and advice to your patients on how they can better look after their teeth. It keeps their teeth healthy, saving them having to book an appointment with you further down the line.
You already deliver your advice in your practice. But Instagram is the perfect place to share your knowledge with the world in digestible, bite-size posts.
You can share this in a variety of ways. You could take a few photos of a toothbrush, floss, mouthwash, and so on, and include a caption explaining why each is important. Or you could create a short video showing how to brush your teeth correctly. It's up to you.
One good idea to get you started is to use the hashtag #CleanEats to accompany photos of fresh and healthy foods that are good for your teeth. This is the kind of thing your patients want (and need) to know, and it makes for perfect Instagram marketing that is easy for them to understand.
Include a little light relief to boost your dentist brand
Not all of your Instagram content has to be serious. Instagram marketing is about building your brand just as much as growing your practice, so don't be afraid to add a few irreverent posts to your Instagram to provide some light relief. Many dentists on Instagram share inspirational quotes, jokes or, yes, a few dentist puns too to mix up their content calendar.
As well as providing a light-hearted alternative to your usual output, this content is super easy to create too. Simply find some attractive free images online, and use a simple online visual editor to add a text overlay of your quote, joke, or pun.
These are just ideas though, and there are plenty of other types of content you could use. Snaps of your practice on a sunny day, team shots, photos of seasonal decorations — it's up to you.
Instagram is a powerful social platform that works for businesses from a variety of industries, and dentists are no exception. Follow the tips above and create a flourishing Instagram marketing strategy that will grow your practice well into 2019 and beyond.
---
Alexandra Kayleigh is a part-time writer at Writerzone. Also, she helps startups and small businesses find success. She loves spreading the good word about hard-working entrepreneurs from around the world.