Custom Dental Websites vs. Templates: What You Should Know Before Buying
If you're in the market of choosing a dental website company, you most likely run into two options:
Custom Dental Websites or Template Dental Websites
What exactly are you getting?
That's what I'm going to cover in this blog post: the difference between a custom website vs a templated one. (Besides the obvious, "One's custom and the other is templated.")
Ready? Let's dig in!
What's a custom dental website?
Exactly how it sounds: It's a custom website.
Everything is personalized to your dental practice – from the design to the content to every intricate detail.
These custom websites are especially effective for dental practices:
In a highly competitive market (like Seattle and New York)
With multiple locations
Who have an established brand
Starting their business and need to stand out right away
Have a unique specialty
What's a templated dental website?
A templated website is… a template. The framework is built and ready to launch. All it needs is a logo, color palette, a professional doctor photo, and you're off and running.
They're cheap. And many dental professionals find the price a very attractive feature.
How much does a template website cost vs. a custom one?
Well, just like dentistry: There isn't a one-size-fits-all price. The prices vary depending on:
The labor going into building the website (design, coding, testing, etc.)
How much customizations you want
How many pages you want
The digital marketing agency's prices
So, we cannot give an exact quote.
But, what we CAN do is give you a range.
For templated dental websites, you're looking at $1000 of initial fees PLUS a monthly fee of about $50-100 per month.
For custom dental websites, you're looking at a $3000 – 20K (depending on customizations).
What exactly are you getting with that price?
Or another way to put it:
How custom can you get with your website?
As mentioned above, a custom website includes custom everything. If you have a vision, it's possible to bring it to life.
While with template sites, they're cookie-cutter and constrained on what you can and cannot change.
Most likely, you can only change your logo and colors.
Some docs may go, "That's fine. I'm not into design anyway. As long as the site has my logo and contact information, I'm sitting pretty, right?"
Hold up ✋
I want to share this blog post about the importance of dental website design.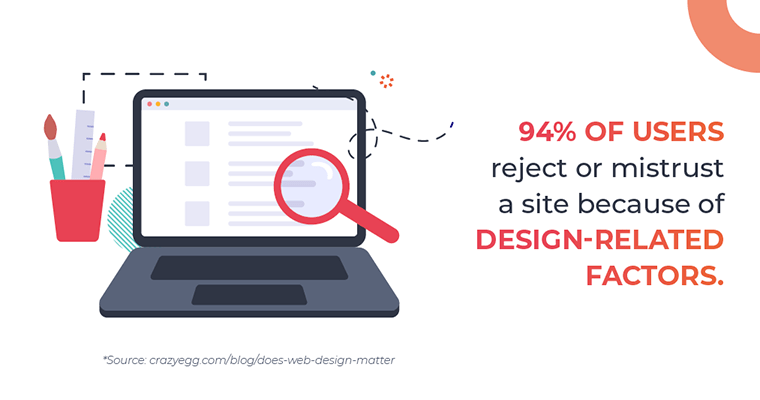 Our Marketing Director, Whitney, mentions this interesting study that Jason Putnam shares … Opens in a new window to Crazy Egg's website:
"The goal of the study was to determine how much impact a website's design has on the trust and mistrust of health websites. Participants searched for health information online and were asked about their first impressions of the sites they found. Design-related factors contributed to 94% of the reasons users rejected or mistrusted a site."
And those users cited specifically:
Complex, busy layouts
Boring design
Too much text
Corporate look and feel
Spoiler alert: Template sites have all those factors (eek!).
You may start looking more like Joe Schmoe or Plain Jane, giving out those icky corporate vibes.
And you don't want that.
Moral of the story: Customization matters. It adds a creative twist to your brand, so it's unique ONLY to you – no one else.
How much time does it take to build a website?
Generally speaking, template websites can take 2-3 weeks to launch because the framework is built and ready to go.
For custom dental websites, it depends on the customizations you're wanting.
With Roadside Dental Marketing, as soon as you send in all of your assets (logo, photos, etc.), you're looking at a 4-6 week turnaround time.
Which website will get me new patients?
Ahh that's the bottom line, right? A website doesn't matter unless it gets those booties 🍑 in the chair.
So, let's break it down:
Can you get new patients with a templated dental website?
Here's the issue with templated websites:
They all look the same.
People are savvy enough to know what's a template… and what's truly custom.
Put yourself in your patients' shoes:
They're trying to find a dentist who's:
Going to keep them safe and healthy
Invested in the latest technologies to keep them comfortable
Likable, kind, caring, and relatable
If they land on your website and it screams, "template, corporate, stock photos"… they're not choosing you.
Not to mention:
Your content may be duplicate and doesn't address your patients' barriers, your UVP, and how you keep them safe.
Long story short: It's difficult to build trust with potential patients through a template website.
Can you get new patients with a custom dental website?
Yes, yes, and YES!
Here's why:
Again, put yourself in your patients' shoes. Those barriers we mentioned above are going through their heads.
Your website needs to address those barriers, and a custom website gives you ample opportunity to reach out (virtually), introduce yourself, and make your case on why you're the dentist for them.
A custom dental website makes it 1000xs easier to build trust with potential patients than a templated website.
Your website should work as hard as you.
With 20+ years of launching dental websites under our lab coats, we know what it takes to convert website visitors into life-long patients.
And… we don't use those boring cookie-cutter templates.
All of our websites are customized around YOUR brand.
But, if you just went, "But… I don't have the budget for a custom website."
We've got you.
No two practices are alike, which is why we offer:
Flexible pricing based on customizations (starting at $4500)
12-24 month payment plans
Your website is an investment for your dental practice, and we understand how daunting it is to choose the right website company for you.
Before you make a purchasing decision, read this blog post, Top 10 Questions to Ask Before Choosing a Website and SEO Company.
And make sure you're asking those 10 questions to every website company you're interviewing.
It'll make the decision process so much easier.
See if we're the right fit for you!
Feel free to ask us those 10 questions by scheduling a no-obligation call with Angela (she's got 20 years of experience in the dental industry).