Up Close and Personal on Chicago's Original Architecture Tour
There are three things that make me really, really happy:
Sunny and warm spring weather.
Boats and bodies of water.
Learning about architecture and history (yep… that's me… I'm a nerd).
Put those three things together and you have one of my absolute favorite windy city attractions: Chicago's Original Architecture Tour, run by Wendella Boats.
The 75-minute Wendella Architecture Tour shows off the City of Big Shoulders in a captivating way. We boarded our boat next to the historic Wrigley Building and under the shadow of Trump International Hotel and Tower.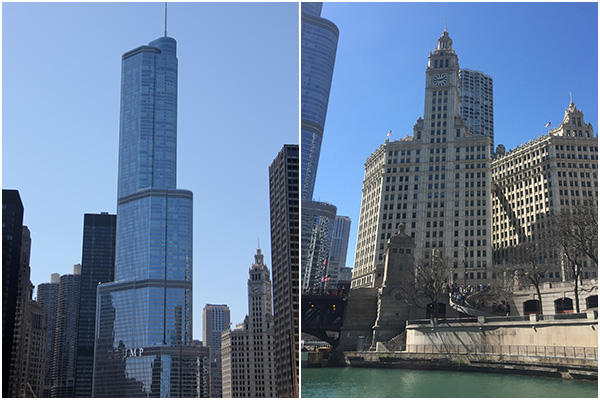 A River (Literally) Runs Through It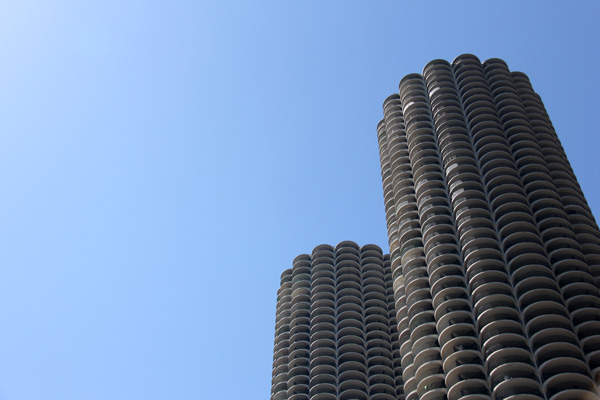 The tour starts off heading in the direction of the north branch of the river. Along the way, you'll recognize Marina City – also known as the "corn cobs." Designed as a "city within the city," it includes two residential towers, a marina, shops, restaurants, even a theater. Architect Bertrand Goldberg believed that since right angles do not appear in nature, they shouldn't appear in architecture either.
Continuing along, you (literally) can't miss the massive Merchandise Mart, an art deco style building that takes up more than 4 million square feet (that's right…4 million!). When it was completed in 1930 it was the largest building in the world and up until recently, it even had its own zip code.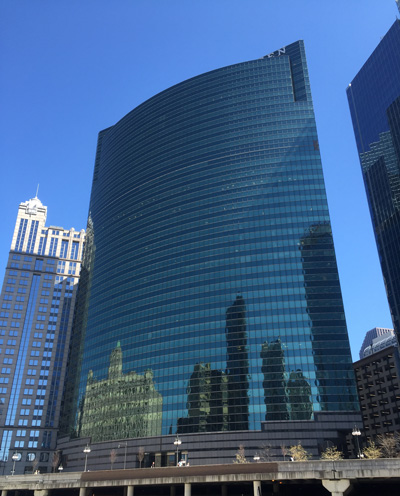 As the boat then turns around and heads down the south branch of the Chicago river, you'll witness 333 West Wacker, an example of contextual architecture, or design that acknowledges and respects what is already there. The curved glass facade of the river-facing side of the building mimics the color of the river and reflects the surrounding buildings and landscape. (If it looks familiar… you may also recognize it as Ferris' dad's office building in Ferris Bueller's Day Off.) As the boat drifts by, the reflection in the glass shimmers and moves just as if you're observing a reflection in water.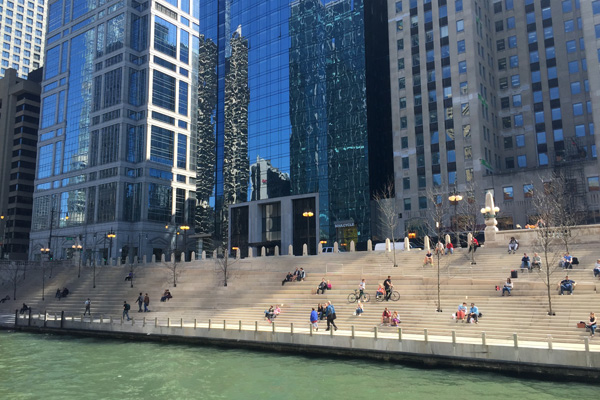 The tour continues back up north and out toward the Lake Michigan locks. I won't spoil the entire tour for you, but expect to see up close and personal views of Willis Tower (or, as Chicagoans will always call it… the Sears Tower), the newly revitalized riverwalk, iconic river bridges and bridge houses, Navy Pier, and more. You'll hear little-known tidbits about the windy city's history and how it has molded and shaped the skyline we've come to appreciate today.
Tips for Your Tour
Before you go, here are a few tips you might want to consider:
Follow Wendella Boats on Facebook for discounts and special offers (we used a Facebook promo code and saved 20% off our tickets)!
Wear sunscreen – even if it's an overcast day, you'll get a lot of sun during the 75-minute tour.
Afterwards, continue your Chicago River experience by exploring the restaurants right on the waterfront. Not wanting to leave the sunshine quite yet, we followed up our tour with refreshing cocktails and tasty small plates outdoors right along the riverfront at River Roast, a short walk from the Wendella dock. I highly recommend it!