Ask Roadside – What if I'm Not Showing Up in the Google Local 3-Pack?
Some time ago, Google again changed the format of the map results for local searches. There are now only three local businesses listed, and no phone numbers or websites; this is known as the Google Local 3-Pack.
There are benefits to this setup in that potential patients must click on the listing in order to access the phone number and website as well reviews, which improves Google engagement. It does, however, raise the all-important question: What if I am not in the top three?
How concerned should I be about being in the Google Local 3-Pack?
One of the main things to remember with this new local map format is that results may vary. The results you see on your screen may be different than the results someone down the street is seeing.
Google is pulling results for individual searches based on a number of factors, some of which appear to include IP address and previous search history. So while our goal is always to be in the top results, where you are listed within the local map results can vary somewhat based on who is searching.
Is there actually more room at the top?
With this new format, as well as the removal of the phone numbers and websites from the home page listings, Google has indeed created more room at the top.
With the necessity to click on listings in order to get any information, this opens up the top 20 map spots to visibility regardless of whether the searcher clicks on one of the top three businesses or just the "more places" option from the home screen.
By making the map results on the home page more compact, they have also created more room for organic results, which allows more opportunity for page-one ranking.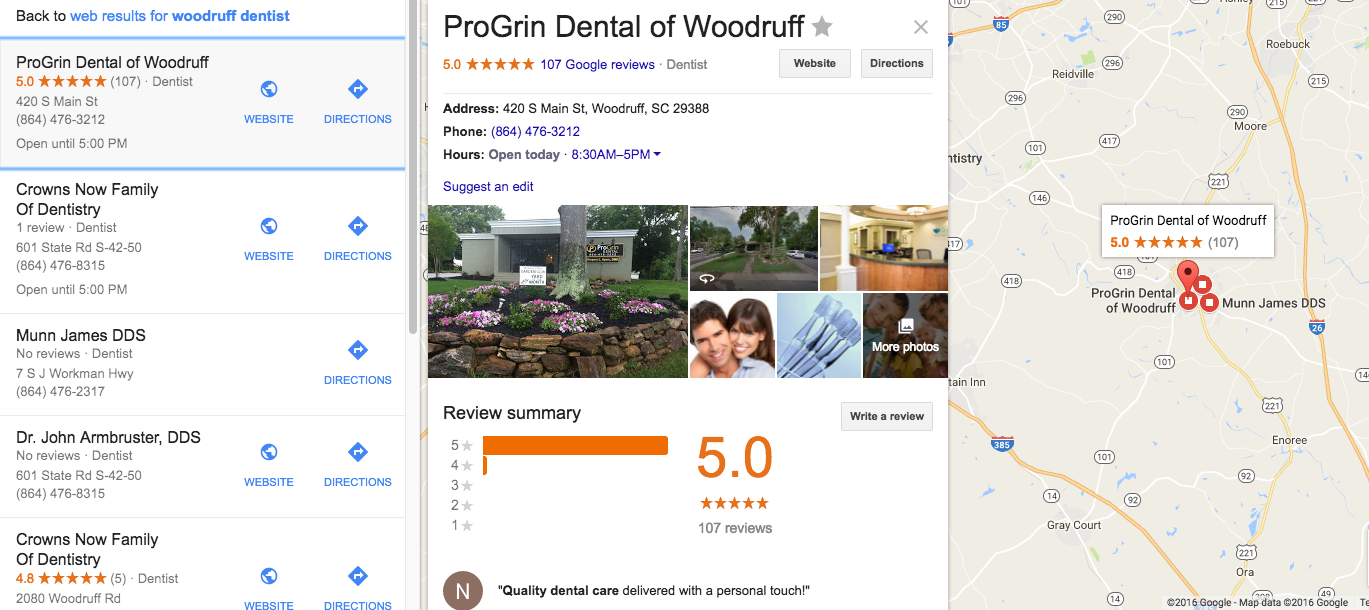 What are the current ranking factors for the Google Local 3-Pack results?
While there will be factors such as search history and IP address that affect the searches, Google is still using data found within your listing and website to determine which results you should be coming up in. With the removal of business descriptions from the local results that allowed businesses to list their products and services and even links back to pages on their website, data is more important than ever.
Google is looking for complete and accurate information in the following areas:
full business name
complete address
business landline phone number
a link to your website
a category that accurately describes your business
Be sure that the information found on your website matches the information in your listing. This information should be listed on the home page of your dental website, as well as in the internal and back-end optimization of the site. The information displayed around the web about your business on data providers and other local directories should also be maintained to create accurate signals for Google.
Keep calm and market on
While the current map results have created some concern for local business owners, it is important to remember not to panic. Google has changed their search result displays many times, and will undoubtedly do so again.
Rather than worrying about the many updates Google makes, keep focused on your end results: Phone calls to your business and clients in your door.  
Continuing to feed Google accurate information from many sources across the web, providing excellent service to your patients, and encouraging them to share those experiences socially and through reviews will help make that happen.
Use this checklist of questions to find areas where your business can improve to help not only your Google Local 3-Pack rankings but also your overall exposure to potential clients:
Is my Google listing claimed and accurate?
Does my website list correct information in all areas?
Are my business listings accurate across the web?
Are we regularly posting on our blog and social sites?
Are we training our team to ask for reviews from our patients?
Do we have a system in place to make it easy for patients to leave reviews?
By addressing each of the factors above, you will continue to give Google the information it needs to display your practice in search results, as well as draw new patients in from the many other areas available.
Work with your marketing team!
If the list above seems overwhelming, remember we have your back! Your marketing team at Roadside is working hard to get you good results. By collaborating with us regularly, we can work together to keep your marketing active and successful. By providing us with up to date information and fresh assets, your site can stay competitive on Google, including the Google Local 3-Pack,  as well as all the other sites that will help bring you, customers.
If you are interested in dental SEO or if you see any areas that your business can improve in, contact our team today so we can discuss solutions!
And always, we wish you happy marketing!