3 Dental SEO Predictions for 2019
With 2018 in the rear-view mirror, you're no doubt looking at your business goals and marketing budget for the coming year. What SEO predictions should influence a dentist's marketing strategy in 2019? How can your dental practice rise above the competition next year? Here are three dental SEO predictions we believe should influence your strategy: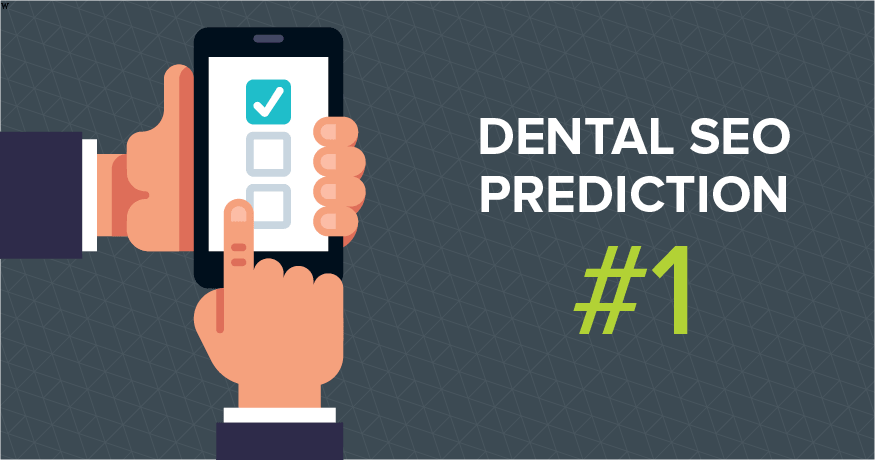 1. Mobile is more important than ever.
Google's mobile-first indexing is changing the landscape of the search results. What does that mean? SERPs (search engine results pages) are now based primarily on mobile content. Here's an explanation directly from Google:
"To make our results more useful, we've begun experiments to make our index mobile-first…our algorithms will eventually primarily use the mobile version of a site's content to rank pages from that site."
While this update is still in experimentation mode, it is important to ensure your website is mobile-friendly now. Google went on to make this statement: "If you have a responsive site or a dynamic serving site where the primary content and markup is equivalent across mobile and desktop, you shouldn't have to change anything."
What does this mean for dental marketing? If your practice doesn't currently have a responsive website, that should be priority #1 for your 2019 strategy.
However, if you DO currently have a responsive website, evaluate if it's still performing the way it should – in other words, is it consistently delivering new patients? Is it performing well on search engines? If not, it might be time for a new website and a fresh SEO strategy for the new year.
2. Dentists MUST optimize for local search.
When people in your community search for a dentist, their intent is typically to find results nearby (ex. Dentist near me). Dentists and orthodontists who prioritize optimizing their Google My Business information will see improved local search results. The importance of local search optimization for dentists will only continue to rise, which is why it's one of our dental SEO predictions for 2019.
According to RankWatch, "optimizing your content for specific locations can be the focused approach you need to attract more customers in your exact area."
How can you ensure your practice is optimized properly for local search?
Make sure you've verified and optimized your Google My Business profile.
Ensure your information is accurate and thorough on Google as well as other local listings (including Yelp, Healthgrades, etc.)
Prioritize getting reviews on Google and other review sites.
What do reviews have to do with local search? A business with plenty of positive reviews signals to Google that it's a legitimate, relevant, and useful choice for the searcher – resulting in higher rankings.
3. High-quality content will continue to be crucial to get to the top.
This may not seem like an earth-shattering SEO prediction, but the truth is that well-written, purposeful, educational content will continue to be important for rankings.
Dentists and orthodontists particularly have a lot of opportunities to educate through quality content on their websites, blogs, and in lead-generation downloads, like ebooks.
Stuck for content ideas? Think about the top three questions your patients ask about a particular service. Boom! There's a blog post. What do patients need to know before coming to the office for their first appointment? Boom! There's a lead-gen ebook.
In other words, share what you know will be useful and helpful to your patients on a regular basis and it will have an ongoing positive effect on your rankings.
---
In conclusion, these three dental SEO predictions underscore what you might already know to be true: A well-rounded strategy includes prioritizing mobile, optimizing for local search and getting reviews, and continually creating quality content.
Need any assistance planning your 2019 dental SEO strategy? We're here to help. Call Angela at (360) 283-5001 to discuss how Roadside can help your practice have its best year yet!